On October 3, 2023, Lions Services hosted a Workforce Development learning session for 5 delegates visiting from Indonesia. These visitors were invited to the United States under the auspices of the Department of State's International Visitor Leadership Program to learn about Workforce Development for People With Disabilities, A Project for East Asia, Pacific. The Delegates were joined by 5 interpreters to include American sign language from the Charlotte area, team from Department of state of North Carolina, and staff from the International House of Charlotte.
The learning session and tour was led by the Lions Services Staff, Agatha Bisbikis, Development Director and Nicole Eberhardt, Administrative Assistant and Advocate for Leadership and Employment.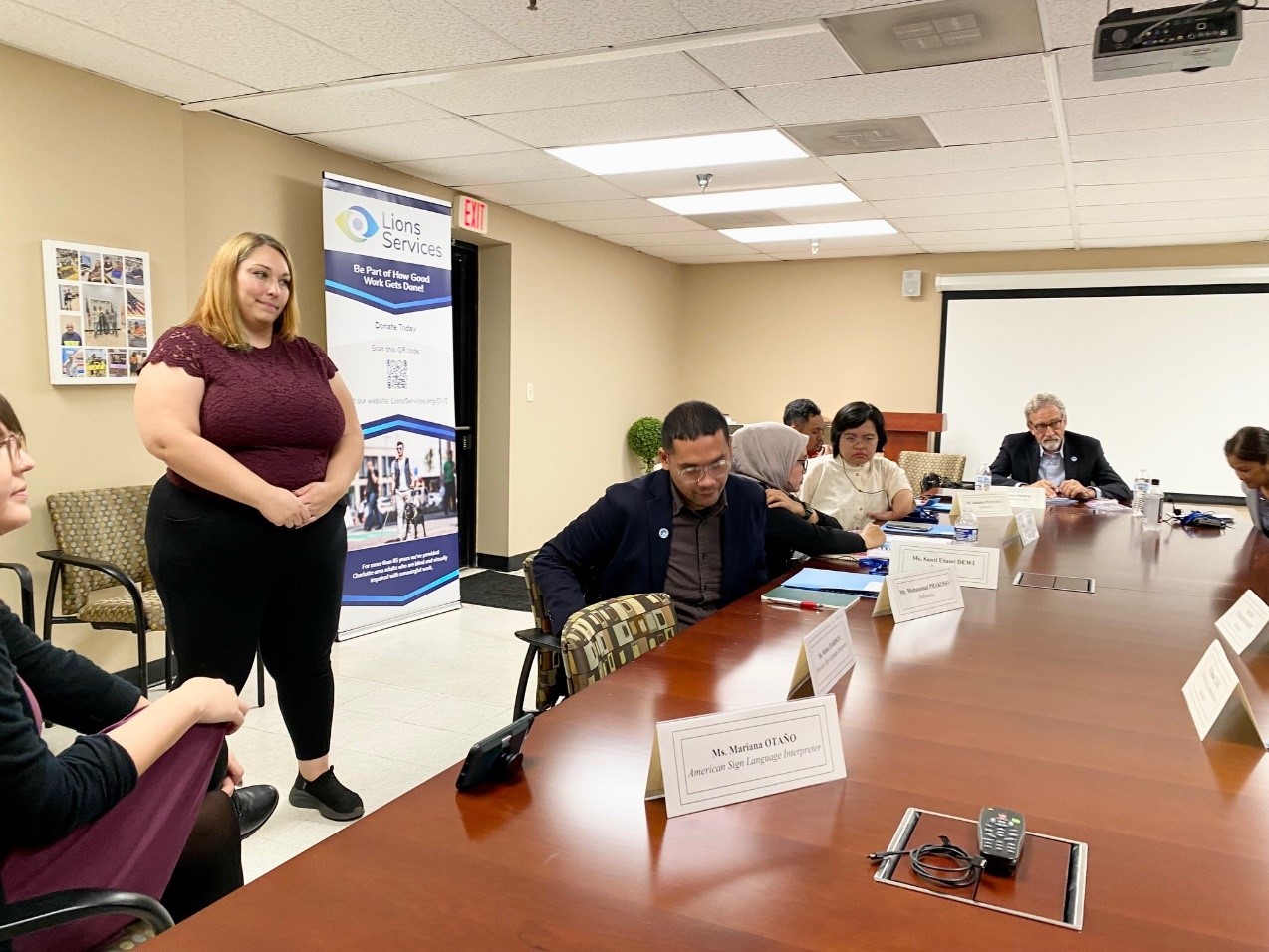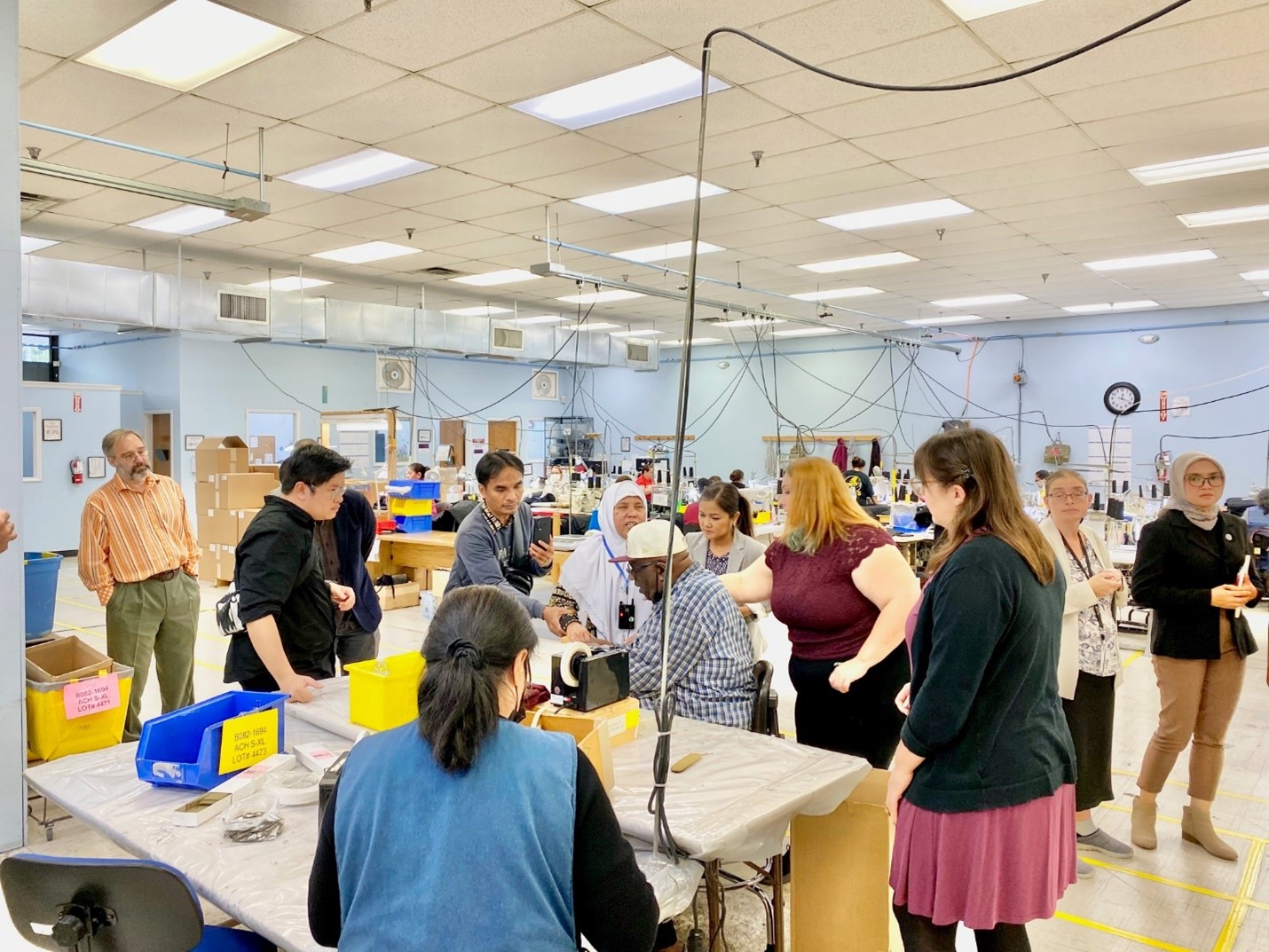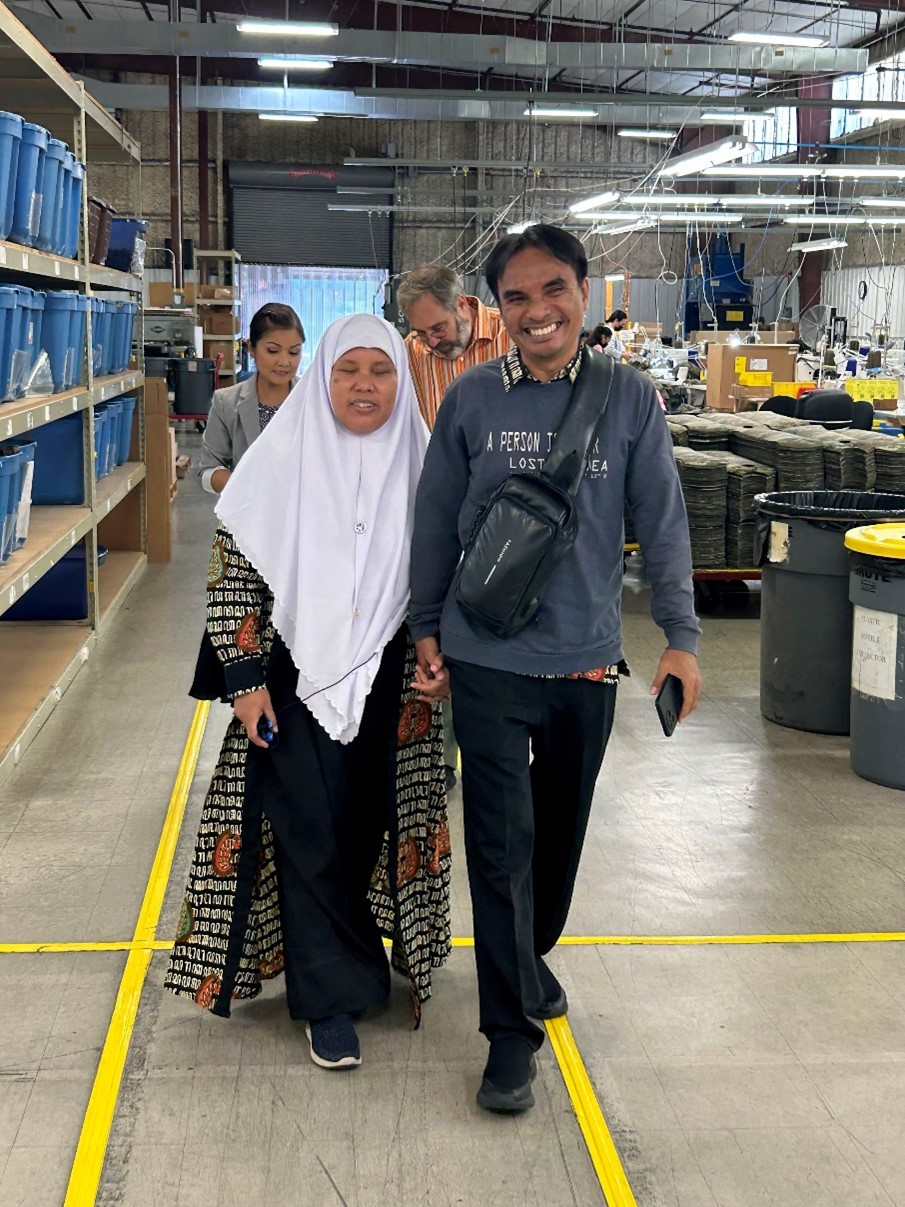 Education & Progress
The visit and learning session aligned perfectly as October is National Disability Employment Awareness Month (NDEAM). The Lions Services team shared how we are raising awareness of the workforce capabilities of people who are blind and visually impaired (VI) in the Charlotte community through our Workforce Development program. More than 5,000 people who are blind and over 500 veterans are employed through the National Industries for the Blind and its associated nonprofit agencies, like Lions Services. For 88 years, Lions Services has helped create employment opportunities for people who are blind; it currently employs more than 100 people who are blind and 10 veterans. These employees deliver a variety of products and services, including Sewing, Embroidery, Packaging and Shipping, and distribute high-quality products and services to federal, military, and commercial customers, including administrative roles, and the leadership team where the President and CEO is also legally blind. The LSI team shared statics such as 70% of working age adults who are blind and VI are unemployed in the United States, there are currently 16,000 residents living in Mecklenburg County living with blindness and VI and a high percentage are unemployed. We spoke about misperceptions about the workplace capabilities of people who are blind still exist and hinder their employment through traditional channels.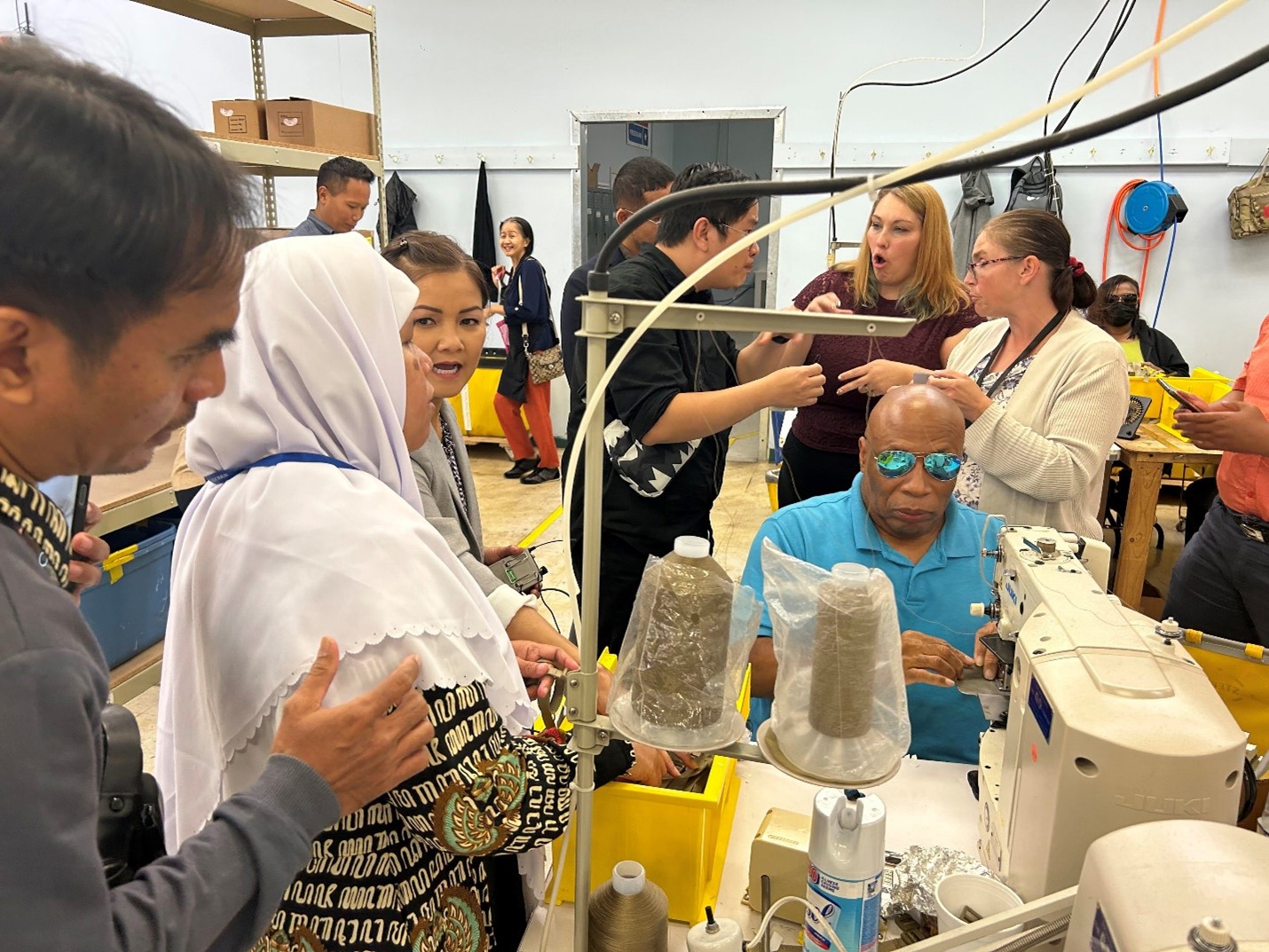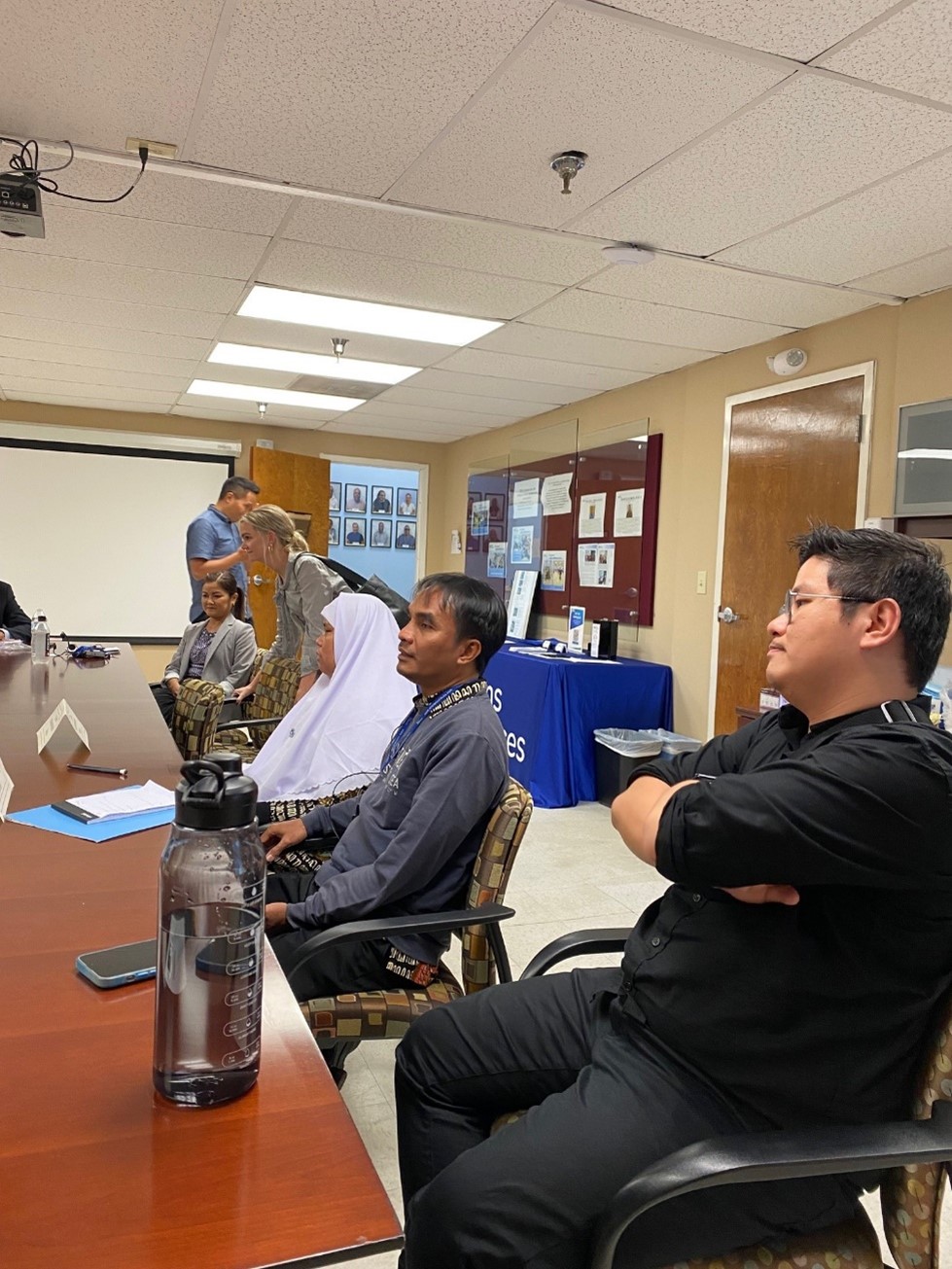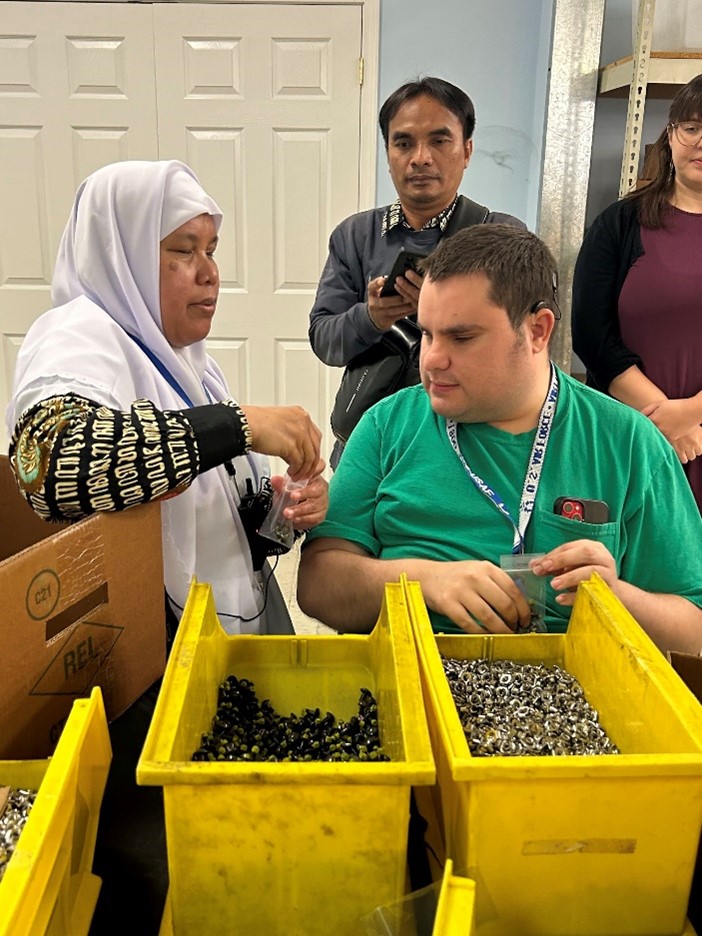 Our Mission
At Lions Services, our mission is Empowering people who are blind to achieve personal and economic independence by providing them with vocational rehabilitation and employment opportunities.
 We discussed the Americans with Disabilities Act and spoke how Lions Services is breaking barriers and Embracing Disabilities in the workforce.
The Delegates discussed the limited job opportunities for individuals who are blind in Indonesia, emphasizing that unless they come from affluent backgrounds, opportunities are scarce.
The delegates learned about different types of technology used at Lions Services to create and make jobs accommodating for the blind employees working in administrative and manufacturing jobs. They learned that employees are paid competitive working wages and the various forms of transportation employees use to get to and from work.  The Administrative Assistant, Mrs. Eberhardt spoke about her own life experiences as a person who is legally blind and how she started off working in manufacturing at Lions Services and was promoted to the Administrative Assistant & Advocate for Leadership and Employment.
Inclusion
Mrs. Eberhardt spoke about upward mobility opportunities at Lions Services and the importance of giving people who are blind a voice, and an opportunity to show their work talents. The delegates, interpreters and team from the International House were provided a tour of the entire facility where they got to visit and speak with employees about working with disability in various work departments. The guests expressed how impressed they were by the various fixture guides on the automated sewing machines allowing people with limited vision and blindness to safely operate machines. Guests emphasized this was the first-time seeing people who are blind operate different types of sewing machines and working together in one place. The guests had the opportunity to speak with the Head Engineer and mechanics during the tour to learn about the processes involved with creating fixture guides for the sewing machines.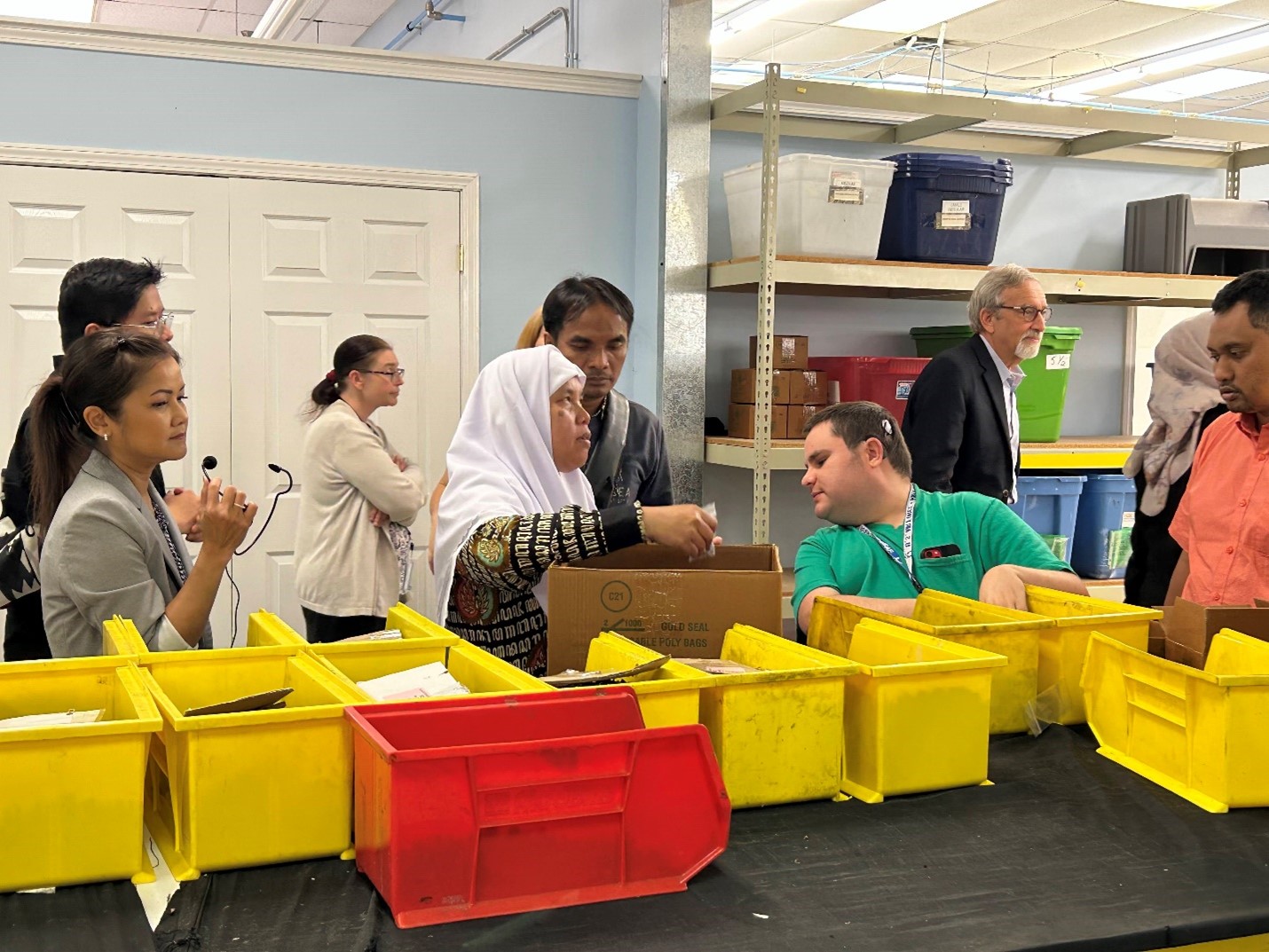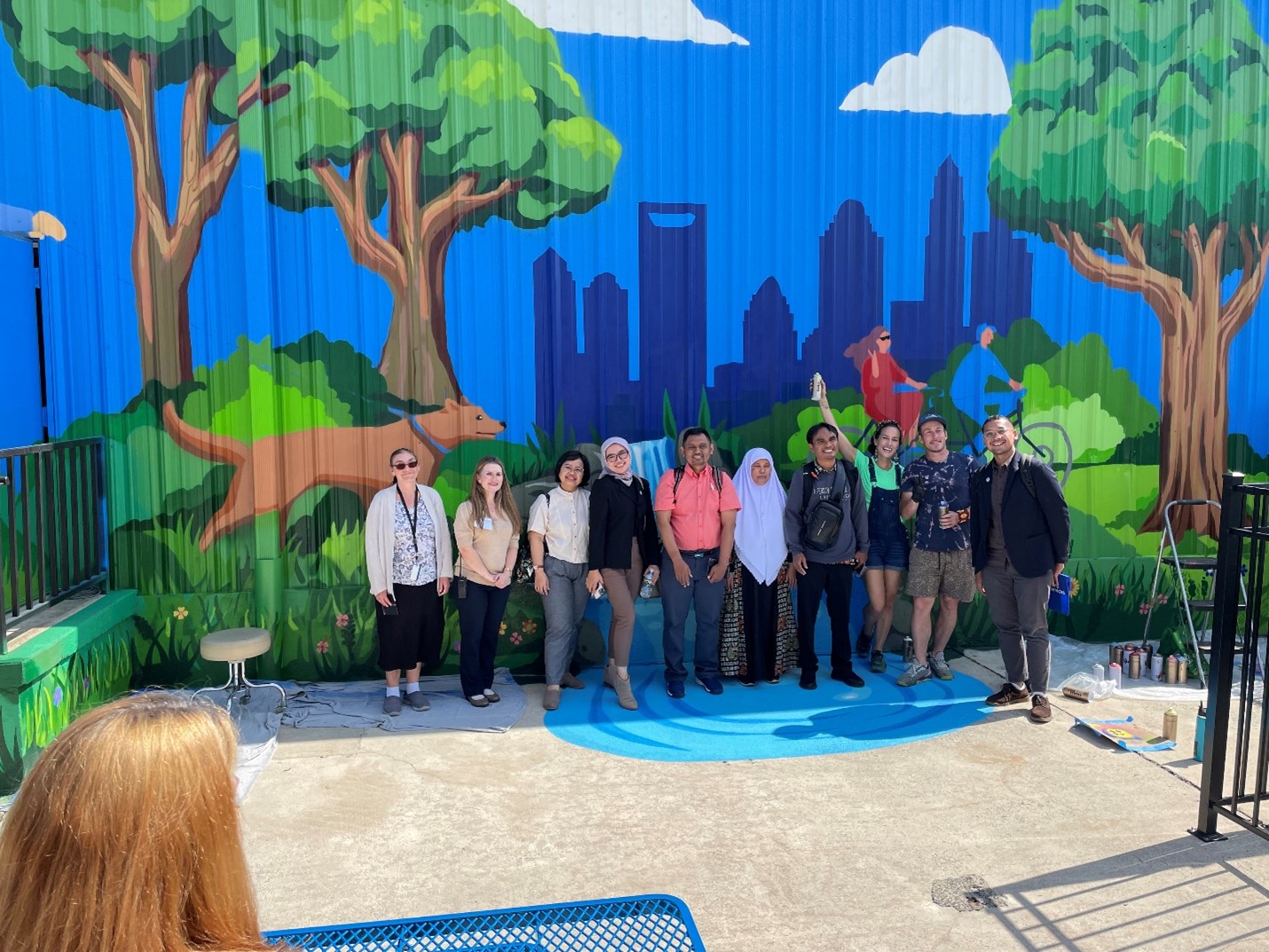 Mural for the Blind
The tour ended with a visit to see the new Mural for the Blind and VI community on the outside patio, guests had the opportunity to meet the artists from Duarte Designs on the patio as it was being completed. One of the many highlights of the tour was seeing the new mural that incorporated blind/VI elements into the mural along with tactile pieces. The guests expressed their excitement as this was the first time they had gotten to see and learn of such a grand mural which ended with lots of group photos taken in front of the mural. One of the delegates said, "I hope to see a grand mural like this one day in Indonesia." The guests said they were beyond inspired by Lions Services' Workforce Development Program and could not wait to return home with so many new ideas on how to help people in Indonesia create jobs for the blind and disabled community.